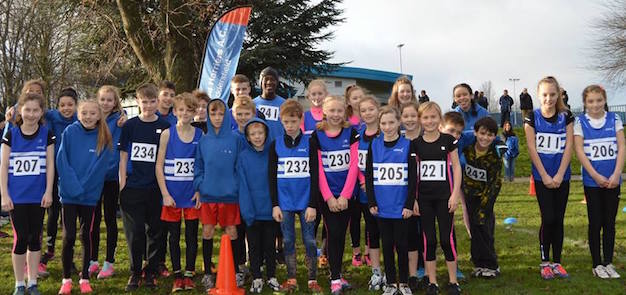 Junior athletes waiting for the 2016 Christmas handicap start at Leeds Road
With the Ladies and Seniors 41 took part!'

All coaches are British Athletics qualified and they and other helpers give their time unpaid. We rely on parents and older members being involved to support our activities, whether this is at training, at an event or with any expertise they may have. We can offer British Athletics training to those who may wish to become coaches or athletics officials; you don't need experience!
In the Summer, Track & Field and Road Running are the norm. In the Winter our focus is on Cross Country with Road Running continuing throughout the year. Our main training details are given on this page. Further details are given on our training summary page. Look here for Joining details
Come along to training, try it out, then if you want to continue, download, print and bring the form below to us on a training night with the relevant subscription fee for the year
Training - Tuesdays and Thursdays 6:30p.m. for Juniors (up to 18), 7:00 p.m. for Seniors (In track season track use from 7:30 p.m.). Leeds Road Playing fields Huddersfield. Small track fee payable for track hire each session